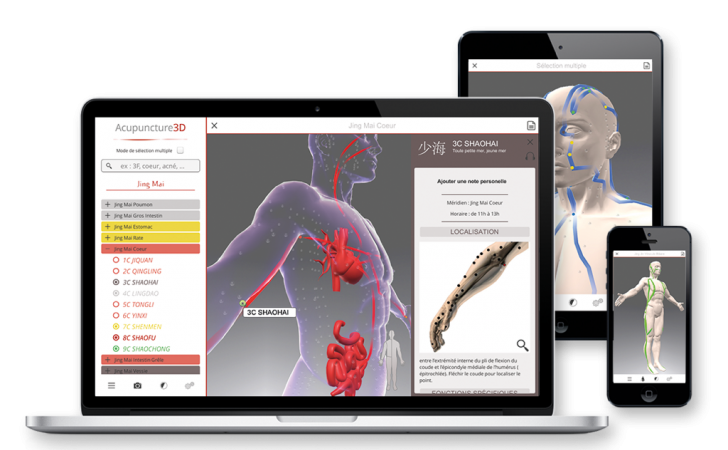 Acupuncture 3D 2018 : English version
Since the very first version in 2011, each and every year we listened to our users. We regularly published updates packed with new features and new content.
2018 is the year we welcome all the TCM English-speaking community to enjoy the the best and most complete acupuncture software today.
Enjoy cuting edge 3D technology and up-to-date content with Acupuncture 3D. And, you know what ? Updates are free !
3D real-time model
Intuitive and interactive control thanks to real-time 3D.
Rotate, zoom, move instantly !
We created Acupuncture 3D with a technology used for video games to ensure a 3D fluid, fun and fast display of the data. Whether with your fingers on a tablet or moving a computer mouse you have a high degree of interactivity.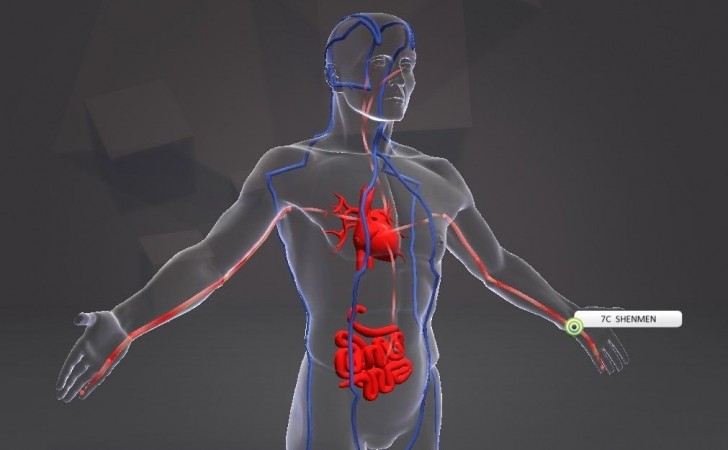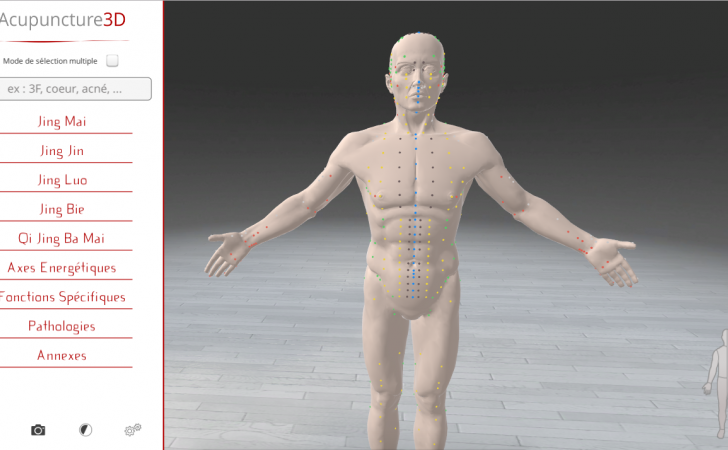 Enhanced user experience
We dedicated a great amount of energy in making the software as intuitive, beautiful and pleasant to use every day. You will discovers all 68 channels organized by type (Jing Mai, Jing Bie, ...). Then browse through their list of acupuncture points, click and discover their location !
Visualize acupuncture points
Browse a 3D representation of the human body, then click on a point to discover :
its name and Chinese character
its translation
its anatomical localization and properties
its functions
its therapeutic indications and more.
Learn the points by function using specific menu functions (eg : Xi-cleft points, Tian points, Yuan-source points and more).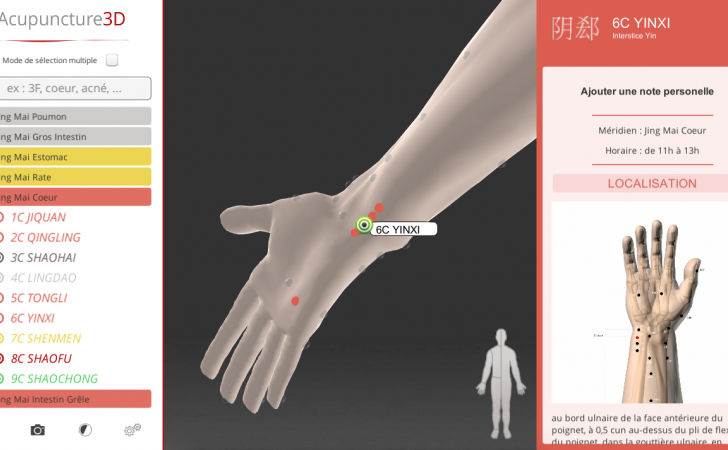 Visualize channel's courses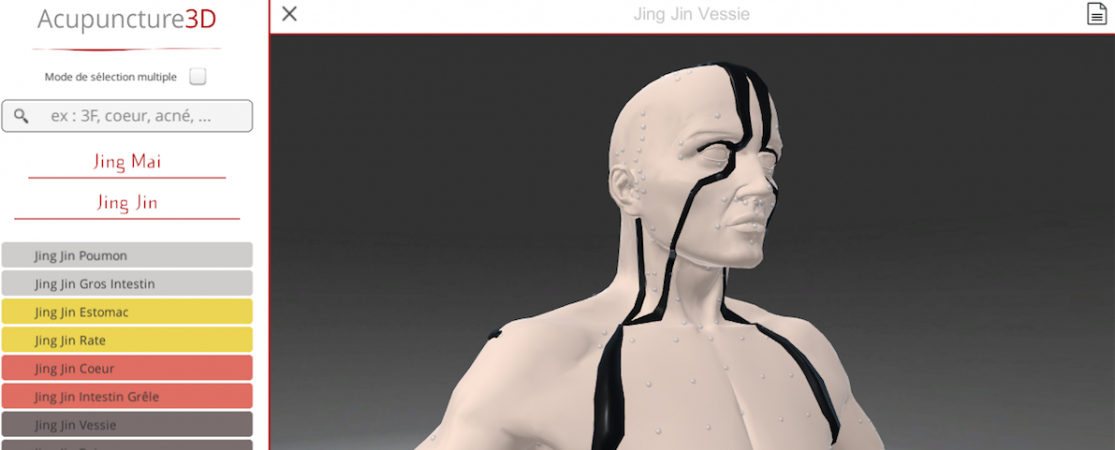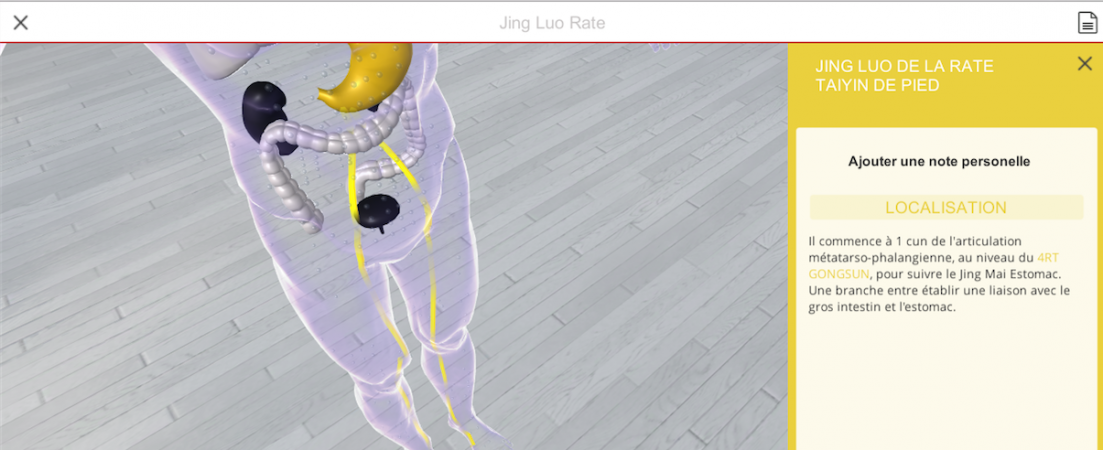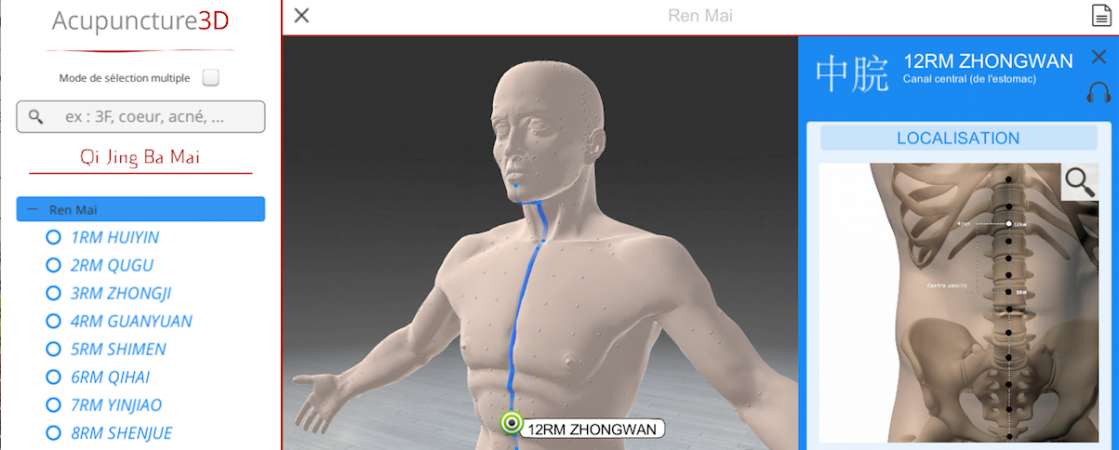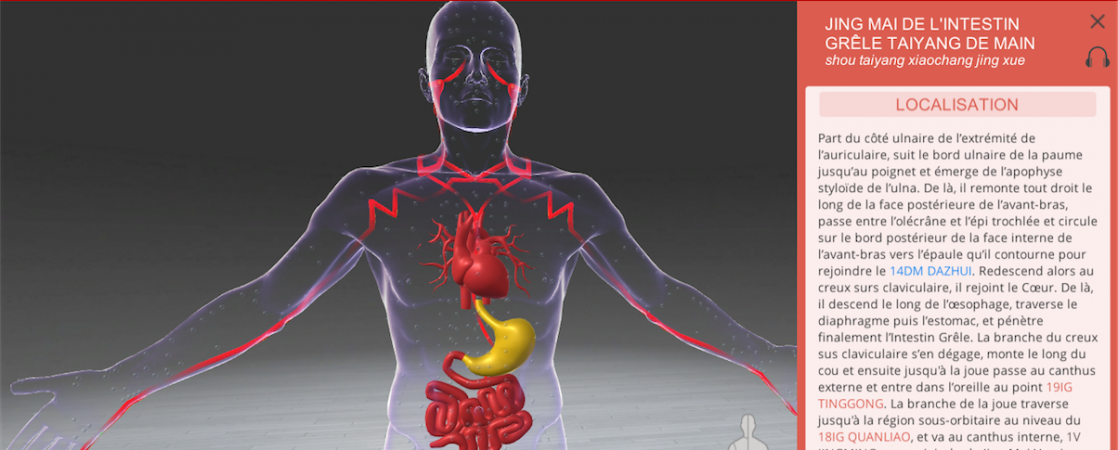 Chinese pronunciation
Listen to the exact Chinese pronunciation of the names of the points and the 12 main Channels with an authentic Chinese voice audio recording. Here is a sample.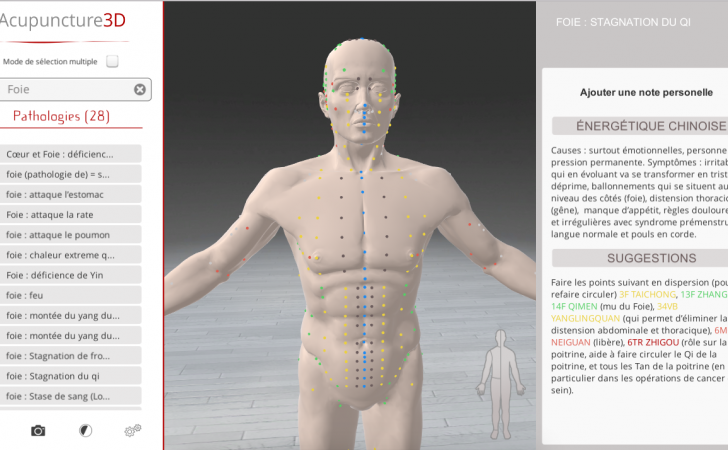 Pathology / syndrome files
Discover 1000+ pathology and syndrome files in order to connect theory with practice of acupuncture. You will read many explanations and advice. This database is updated annually, expanding the content on an ongoing basis. You can also add your personal notes.
Personal notes
You can record your own personal notes relating to each acupuncture point, pathology/syndrome, or channel and save them in your Acupuncture3D account for future reference. They will be synchronized with your account in the cloud for your permanent access and protection against data loss.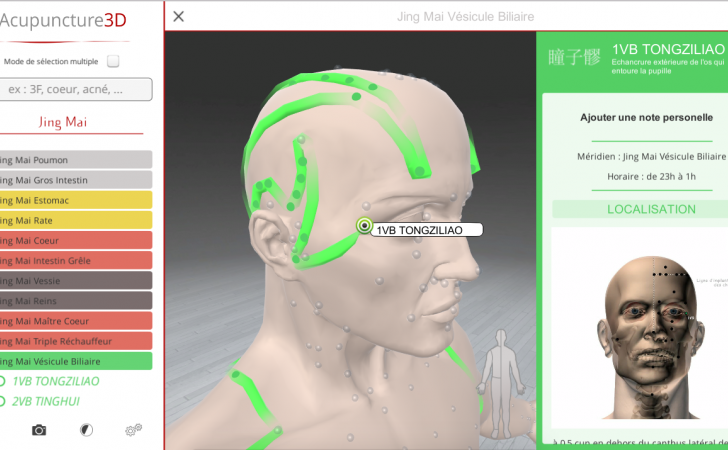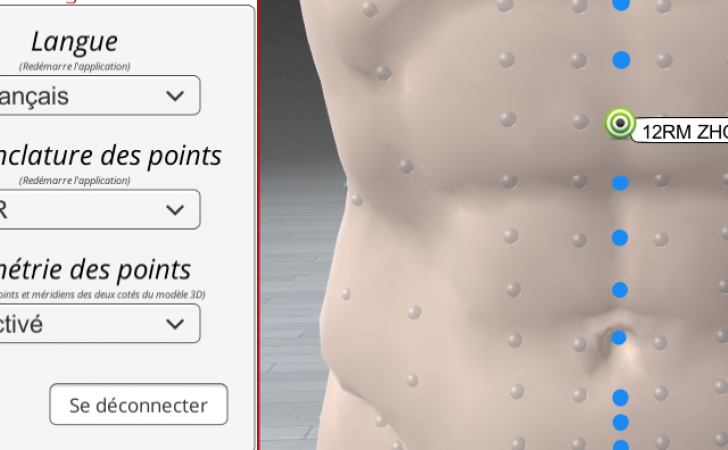 Choose your nomenclature
Now you can choose between 3 different systems of nomenclature :
French, ie: 1P ZONGFU
English, ie: LU1 ZONGFU
International, ie: FE1 ZONGFU
This will allow you to adapt your software to your personal background and preferences, while also facilitating your understanding of international conventions.
English / French
Welcome to English-speaking acupuncture professionals and enthusiats. You now have the option of one-click selection between French and English. And it's free !
Advanced search engine
Use the Search Engine to immediately locate :
Any acupuncture point by name
Any channel by name
Any pathology/syndrome file by keyword
Select from the drop-down menu by directly typing a keyword or point number. For example: If you choose to view a point, it will automatically appear on the model and thus allow you to locate it directly.
And there is more ...
Screenshots
These are automatically saved in your images on your computer. You then have the option to print or use them to illustrate your course materials etc.…
Appendices
Data tables available: The 5 phases/elements and a table of the key points plus 6 new appendices which summarize in tabular form some of the major topics of Chinese medicine, including: "Qi", "Blood", "Nutrition", "Liquids", "Psychology" and The Marvelous Vessels (also known as the Strange Flows or Extraordinary Meridians).
Automatic Updates
We regularly add content to the points, channels and pathology files. This content is automatically updated when your device is connected to the Internet.